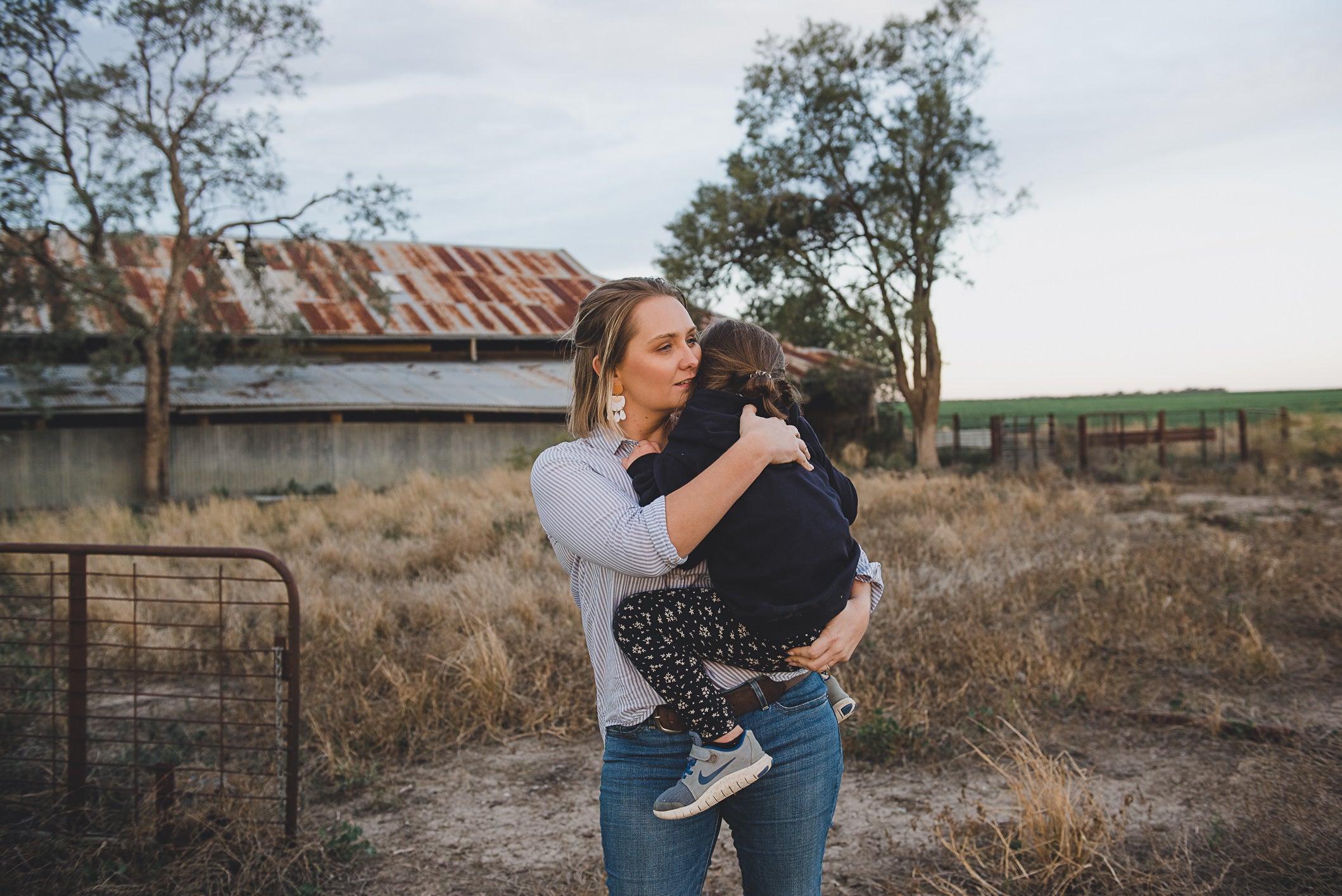 We have the pleasure of knowing and meeting many people within the wellness space through elly b, and wanted to share some of the stories of these talented and inspiring women on this platform.  And what better time than now.  In 2020 we have seen it become so important to take care of yourself, and to understand more about what makes your body, mind and soul happy.  We hope you enjoy x 
Our second discussion is with Zoe, founder of A Mental Note, supporting rural, remote and isolated women on their mental wellness journey (and mum of two!).  We've never met Zoe in person, she is one of the many wonderful connections we've made this year through social media.  Zoe is used to being the one asking questions, so enjoyed the chance to answer ours!  
Where are you from, where do you live currently?
I am from Wee Waa NSW, my husband kids, and I had a 4-year farming "sea-change" on the South Coast of WA before moving back to NW NSW (Mungindi) in April this year!  


What do you do?
I run A Mental Note. It is a mental health coaching and counselling support service for rural, remote and isolated Australian women. 

What do you love most about what you do?
The thing I love the most about what I do is working with women to better their mental health in rural life and seeing how rural women can use self-care in isolated and "tough" living conditions. We have this pre-conceived idea that rural women are tough and that self-care is beach trips and day spas. It isn't! So I love teaching this to those who need it most. 

What do you find most challenging about what you do?
Funnily enough, the business side of running the business. I don't love admin! 

Why is self-care general important to you?
Self-care is, I think, the most important part of survival. There is no one else in this world that you will spend as much time with, as you do yourself. So if you don't like and take care of who you are, it is a very long and lonely life. Rural living is lonely as it is, so prioritising small, achievable, daily self-care routines makes the space in your mind a nicer place to hang out! 

What are your favourite types of self-care and why?
We live 25kms from a small town that doesn't have the "luxuries" of a beauty salon and come to think of it, we have never lived anywhere where hair and beauty have been easily accessible. So, hello, DIY! 
I taught myself how to do dip powder manicures so that I could feel feminine and do something for myself. Even on the days I don't have video calls with my clients I will wear makeup. 
I also love a good face mask, journaling, meditation, surrounding myself with too many animals, colouring-in and playing Lego with the kids, cooking, and I try to get enough sleep! 
The point is this, if it mentally makes you feel good, do more of it! What feels good for me might not feel good for you, get in touch with your values, and from there you can make a pretty extensive self-care activities list tailored to yourself.

Do you get enough 'me time' (can be honest 😄)?
What is "me-time"??? We have two children. One is a sassy, keep me on my toes, four-year-old girl and the other is a five-year-old farm loving, wicked personality Autistic boy. My husband is Scottish, so there is never EVER a moment where he isn't bantering away. I mentioned the too many animals being part of my self-care, they are more often than not the cause of my stress too. Plus I run my social media by myself as well as the business. Just recently, I hired a fantastic VA to help with some admin, and that has been an enormous relief! 
Any spare moments we are gardening, at a gun club cheering on the Scottish guy, or visiting family. This is why self-care is vital, I have very limited time where I can sit by myself and read a book or binge on some good TV so, I create self-care routines and focus on gratitude in those fleeting moments of time. Im often doing my nails at 10 pm when everything else is done, but the benefits of that extra hour of staying up are powerful! 

What would you do more of if you had the time?
If I had more time, I would spend it hanging out with the kids and Dave (my husband). We don't have an abundant amount of time all in one place doing nothing so I would use the spare time with my little family! The days are long but the years are short! 

Do you like to use natural products, and why?
YESS! This was a big learning curve with our son. When we started an essential oils routine with him, we noticed a significant shift in his behaviour. This inspired us to eat and live as natural as we can! From what we put in and on our bodies as well as around them, we are as natural as possible!

Do you like to use sustainable/eco-friendly products, and why?
Absolutely! I got hooked with oils. Then I swapped to eco-friendly in the kitchen where I noticed food lasting longer with eco/sustainable products, massive win for isolated living! I am not perfect at it, but every little thing counts! I have always used natural products on my body. 

And of course, what is your skin type?
My skin type is just normal. Not oily, not dry! 

What are your favourite types of skincare product?
I use a cleanser, toner, pore-refining serum, and moisturiser twice a day! 

Do you prefer your skincare routine to be simple, or do you like to experiment?
I like to have clean skin. I do whatever it takes for those pesky blackheads to look invisible on my nose! 

What do you love about skincare, what do you look for?
For me, something that makes the blackheads go away but smells good! I have paid a lot of money for serums that smell awful, and I have thrown them out. I am sensitive to smell. 

What do you dislike about skincare?
It can be time-consuming, which can be frustrating if you are tired or time-poor. 

What are some of your favourite Australian Made brands/small businesses?
To be honest, all of them! Running a small business is hard work, and that is before the service or product is delivered so hats off to all the driven and amazing humans who have a small business here in Australia! 

What was one of your best achievements/wins for the crazy year that has been 2020?
We have had a huge year, moving in a pandemic through a very stressful family situation was tough, but the most significant achievement is all we have managed and maintained as a family this year! 

And finally, what is one of your wishes/goals/resolutions for 2021?
Im going to be a bit cheeky and say, I don't believe in resolutions! Resolutions tend to come with restricting your behaviour, so it doesn't have a great foundation for success, especially over a long period. I encourage everyone to enjoy December and January then set monthly achievable and measurable goals from February. My first goal for February will most likely be daily HITT workouts after enjoying the festive season - my favourite time of year where the farm is quiet and family time is plentiful!